Yes, it's true. The man who spearheaded the cause to reawaken interest in what was once America's Longest Highway (and remains the longest CONTIGUOUS federal road in the USA) lives in Washington State - nearly one thousand miles from any point on US Route 6.
Russell Lombard, President/CEO/Founder of the Non-Profit
US Route 6 Tourist Association
grew up in Pasadena, CA - and in the 1950's would visit family in Nebraska by driving on the only highway that ran from California to Nebraska - Route 6. Memories of these road trips remained with him his whole life, and after a career in city planning and retirement near Puget Sound, he thought of a way to preserve and enhance them.
In October 2000, a few neighborhood teens came to Russell with a question. They were asked to design a web-page as a high school school project and believed that Mr. Lombard would have some ideas. He did. "Why not start a US Route 6 Association?" he recommended. It was once the only road that ran coast to coast and no-one these days really knew about it. The kids were intrigued. And then obsessed.
"What began as a school project turned into something much more," Lombard told me. "Those kids would come over every day after school into the evenings, contacting towns and cities along the Route. They started getting invitations from communities, from mayors and selectmen." By the summer of 2001, The US Route 6 Tourist Association had obtained IRS Non-Profit Status.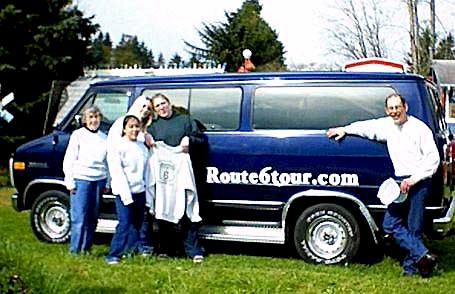 Russ called me recently to tell me this story. Even though he has never traveled on 6 East of Council Bluffs, IA, he has a deep fondness for America's Highway. "US Route 6 is a symbol of culture and time and history and experiences. It is a symbol of our country."
My own travel obsessions take me on the road. It's there I discover our great, diverse and rich land firsthand. I can't wait until I get and STAY ON 6 later this Spring. Sign up for this blog and come along starting May 20, 2011.