Ely, NV to Tonopah, NV
168 Miles
This was the drive I was dreading the most. 168 miles/no services. And yes, it was kind of scary, but now that's it's done, I'd do it again without trepidation. The "unknown" is always the worst.
It was a beautiful, sunny early morning – 57 degrees 7am – when I took Route 6 where it splits with Route 50 in Ely. I passed several cars heading the opposite way, and then, traffic became pretty sparse, though not nonexistent (I counted, believe me; I passed 50 cars going towards Ely over the complete 168 mile run). Scarce, but not exactly "the loneliest road."
Signs blare: NO GAS FOR 167 MILES, and continue the countdown as if those sweating it out with near-empty gas tanks could forget. I had plenty of bottled water and all the petroleum my car could take, so I was in good shape, range-wise.
Route 6 continued its mountain/valley/mountain/valley rhythm as it did yesterday, but the landscape was dustier, browner, more the bleached-skull-by-the-road desert than it was from Delta to Ely. I passed several cattle ranches, cows grazing in the sagebrush, wondering how the hell they live on that stuff. Desert cows puzzle me.
I climbed and descended through National Forests without one glimpse of a single tree, and a "Railroad Valley" without sign of train track or train. I passed an oil refinery in the middle of nowhere (as everything is here), and a lone, lonely oil derrick pumping away.
About halfway along, I got stuck behind two slow-moving trucks and felt oddly grateful for the company, until I realized the loads they were carrying were; "Radioactive." Figures my much longed for company was toxic. I passed them as soon as possible.
I entered strange territory; chuncks of lava were scattered by the road and mountain-sized mounds of dirt surrounded me. It was like being in the Land of the Giant Moles. There was a signpost for "Lunar Crater – and off to my right a feature that appeared to be a black lava field. I didn't turn off to investigate. The whole area did look like a Meteor Impact field – a bit concave surrounded by heaved up hills.
For the first time in 3,000 miles, I saw a "Dust Hazard" sign. No worries about flooding and tornadoes here; it's the sand in the air you've got to be wary of.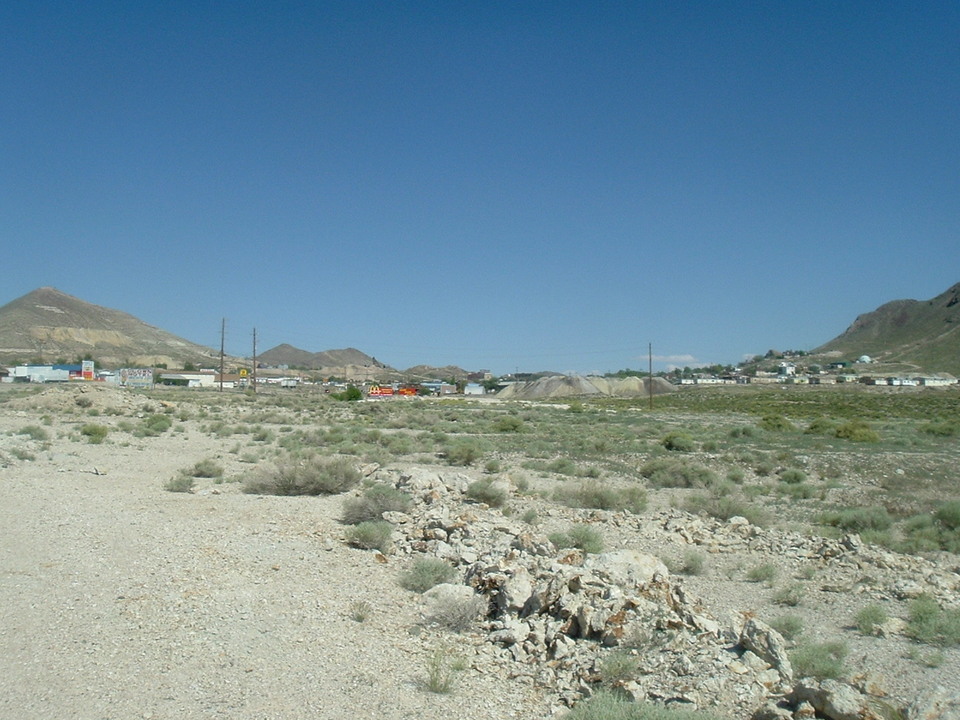 Outside of Tonapah, NV
Tonapah is within the infamous Area 51 and the site of the Tonopah Bombing and Gunnery Range. The Stealth Bomber and other aircraft were tested at the Tonopah Airfield, which resulted in the stories that began back then about aliens and UFO, though there was nothing nefarious going on as I drove by. I knew I was entering civilization once again when I passed the Tonopah Speedway and a small airport, and knew it for sure when, hot and dusty, I stepped inside a Burger King/ Subway/ Restroom Plaza near Tonopah crossroads, filled with high school age kids and travelers of all kinds. My first impression of Tonopah was that it was a bit more accessible to plain ole non-gambling tourists than Ely is.
Tonopah Historic Mining Park
Tonopah, NV
SEE: Tonopah was once the "Queen of the Silver Mining Camps"; from 1900 to 1912, mines here produced roughly two billion dollars worth of silver (adjusting for inflation) and there's a very cool "ghost-town" like walking tour you can take of
Tonopah Historic Mining Park
. On 100 acres set on the side of a hill, it's a leg-stretching way to delve into this town's past. Wind blows through the remains of old mine shafts, headframes (the structures that held electric hoists), and miners shacks, and I swore I heard spirits of the dead whispering around the ruins. Kind of spooky, really interesting, and very informative with great explanatory signage. I was there a good hour plus.
Memorial to Airmen Who Died in Testing Accidents
Central Nevada Museum
Tonopah, NV
The
Central Nevada Museum
is also wonderful; what initially appears to be hunks of rusty junk in the property outside are actually relics of both Tonopah's mining and military history. You can pay your respects to the military men who lost their lives in testing accidents at a memorial made from shattered pieces of airplanes and jets. There's also a pot-marked granite boulder used in the mining jackhammer drilling contests in the early 1900's. Walk the boardwalk of an old miner's town - miners cabins lining the dirt road - lizards skittering hither and yon. It's worth an hour of so to peruse.
I was having some computer issues again – my computer charger was broken and I couldn't get on my Mac to write and post my blogs. I was bummed, but figured that I'd wait until I got home this weekend to complete my Route 6 travelogue. I had only 4 days to go, anyway. But help came from a very unexpected place.
Sidewinder's Cafe
Tonopah, NN
My Hero - Travis Kaminski
Sidewinder's Cafe
Tonopah, NV
Awesome Sweet Potato Fries
Sidewinders Cafe
Tonopah, NV
I decided to try The
Sidewinders Café
for lunch; it didn't look like much from the outside (right next to an abandoned Auto Parts store). But there was a crowd inside, a funky wall with graffiti and well-wishes written by patrons from all over the globe. And it had just opened two months ago. Owned by Barb and Dave Kaminski (they have 7 kids, six of whom have been or are in the Army), it's a great "home-cooked" lunch and dinner place with excellent sandwiches and sweet potato fries so terrific and crispy, I snapped a picture and posted it on Twitter! One of the Kaminski kids, Travis, back from Iraq and soon to graduate college, was helping out at the restaurant and happened to be my waiter. I told him about my frustration with my laptop and the broken charger and he smiled. "You can use my Mac charger," he said. I was overjoyed! So, I'd like to publically thank Travis Kaminski for his gracious offer – allowing me to blog on! I took a picture of him and the first minute possible, I'll post that, too.
Turns out that the Sidewinder was the best place to eat in town. I tried a couple of suggested others, but they did not compare, so I can only recommend this one restaurant.
Room at the Jim Butler Suites
Tonopah, NV
STAY: Like my lunch place, the
Jim Butler Suites
didn't look like much; a typical roadside motel. But inside the adorable room, there's a sitting area, a gas fireplace, a flat screen TV, and comfy bed with pretty, updated bedding. The bathroom is the basic sink outside, toilet and shower behind a door kind of thing, but it's much nicer than I expected and is right across the street from the Sidewinder Café and just a few blocks from the Mining Historic Park. The manager/owner is extremely friendly, wi-fi is free, continental breakfast is complementary; I'd recommend the Jim Butler heartily.