Hawley, PA to Wellsboro, PA
145 Miles
Finally – a sunny day! And what a 145 mile drive; farming and fracking, fracking and farming. Plus one museum stop that surprised me. Some of the most bucolic territory so far on Route 6 punctuated by filthy, dirty fracking trucks dragging mud all over the road, kicking up dust.
Bathroom views. Ledges Inn
Hawley, PA
I began this morning with a special "hard-hat" tour of the soon-to-be opened
Ledges
; a luxury inn at the site of an old glass factory in Hawley, set right on a cascading waterfall and owned by the same people who own Settler's Inn. I will return to stay there – if only to take a bath while watching the waterfall from my bathroom window.
Continuing West on Route 6, I stopped briefly at
Dorflinger Glass in White Mills
. This one-room museum would be a must-see for those who collect high quality cut and etched glass pieces, but for me, the fun was getting there. It's a ¾ mile jog to the right off 6, on what felt like a road graded 90 degrees straight up. I didn't think my car had it in it. The museum and glass shop is located within a beautiful nature preserve, so even if glass isn't your thing, the drive to it might be of interest.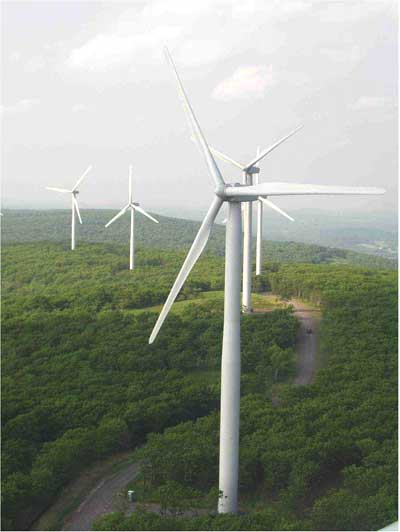 Wind Turbines
Waymart, PA
Route 6 runs parallel to the main shopping district in Honesdale, which has some beautiful grey stone churches and galleries but is otherwise a town in transition. It is known for two things, however. First of all, "Walking in a Winter Wonderland" was supposedly written about Honesdale. And secondly, according to the Railroad Museum of PA's website, "August 8, 1829, The Stourbridge Lion, imported from England, was experimentally operated by Horatio Allen on the Delaware & Hudson Canal Company's railroad at Honesdale, Pa. It was the first steam engine to run on commercial railroad tracks in the United States."
By the time I got to Waymart, I begin to see Wind Turbines high up on the mountains – a very cool sight. At this point, road grades were getting steeper and truck traffic was increasing. Slow trucks mucked everyone up, causing a near standstill on inclines. (Read: patience is key)
I decided to take Business Route 6 through
Carbondale,
which bypassed Scranton. Scranton can be it's own full blog post with a host of great attractions, and if you decide to spend a couple of days there; stay in the unique
Radisson Lackawanna Station Hotel
.
1.
Steamtown National Historic Site
; a "can't miss" for train fans. It's got massive, apartment-sized steam engines, turntables that rotated those engines at the end of the line, and opportunities to ride. It's an all-day stop in itself.
The next town, Carbondale, was the terminus for the first Honesdale gravity railroad, and I'd read that the town had obtained a Historic Caboose, but I looked for the caboose and I looked for the Pioneer Museum and there were no signs (on Route 6 at least) showing me the way. So it was off to Clark's Summit and then, in Factoryville, the "Christy Mathewson Highway, 'Big Six'" as it is known here, for hometown hero, Hall of famer Mathewson.
The "Endless Mountains Visitor's Bureau is tucked away in Tuhkannock (in the middle of a little strip shopping center), but I stopped in to see an email contact and said hello to the staff there. It's a busy place in season – "Endless Mountains" is no hype. The mountain range here does seems endless; green and rolling it's quite a beautiful ride. But by Wyalusing there was a change in the air. Distinctive drilling trucks and natural gas equipment began joining me in greater numbers on the road. The newly-tapped natural-gas-rich Marcellus Shale is right beneath my feet here.
Wyalusing Hotel, PA
I stopped for lunch at the big yellow
Wyalusing Hotel
and met a colorful couple of couples out for a bite. They cracked jokes and I learned a few things about local sites over my marinated grilled chicken sandwich ($5.99). They were great entertainment!
Susquehanna River Overlook
Wyalusing, PA
Weigh Station Restaurant
Towanda, PA
Rose Diner
Towanda, PA
Just out of town, I pulled over at a Susquehanna River Overlook to witness where French Royals settled during their revolution in 1793. They had hoped to whisk Marie Antoinette to safety here, but no such luck for the cake-obsessed gal. A sign marks this part of Route 6 as a "High DUI Crash Area," warning motorists to slow down. It's tough to go too fast, though, when drilling trucks block your way and you're being assaulted by Auto Zones, Dollar Generals, Bigger Box Stores and lots of car dealerships. Commerce reigned as I pulled into the little railroad, artsy town of
Towanda.
An old guy sat outside the very photogenic Rose Diner. What a photo op. I walked to the old Train Station turned "organic restaurant" –
The Weigh Station Cafe
– and a PA Artisan shop. It was bustling, just as it must have been when folks waited for their train to come in.
Out of Towanda, through Luthers Mills the infiltration of Natural Gas drillers could not be ignored. Big Daddy trucks tracked just churned earth onto the roads, and dust from dirt kicked up by truck tires choked the air. I caught some of this on my Route 6 snippet video today. There is no denying that the Fracking companies have imposed a certain order in this neck of the woods.
I was kind of prepared for the adverse affects of these drilling companies, but I was totally unprepared for the joy of rummaging through the
Bradford County Museum and Historical Village
in
Troy
. About ½ mile off Route 6 (on 14), I almost didn't head down the ramp to the County Fairgrounds after reading that the museum was only open Thurs – Sat. 10am-4pm. But I saw the door of the massive barnlike structure was open, so naturally I went in.
Bradford County Historical Museum
aka Troy Farm Museum
Troy, PA
Sheep Treadmill/Butter Churner
Troy Farm Museum
Display of Troy Hotel Dining Room
Troy Farm Museum
Troy, PA
Barber Shop
On "Heritage Days" Local Barbers offer haircuts
Troy Farm Museum
Troy, PA
"Henhouse" Church
Troy Farm Museum
Troy, PA
Johann Dickerson with "Board of Education"
Troy Farm Museum
Troy, PA
Tea for More than Two
Tea Party Sets at Troy Farm Museum
Troy, PA
I'd expected to take a few shots of the jam-packed warehouse full of old stuff, say my goodbye's and leave, but when Johann Dickerson began her spiel, I was transfixed. This low-tech place preserves a certain former lifestyle in a very interactive way. "Pick up that iron," Dickerson said. It was at least 10 lbs of real iron. "Can you imagine having to use that daily to press your long skirts? It must have taken all morning." Every one of the thousands of items was worthy of this kind of comment. Johann showed me a wooden goat or sheep treadmill used to churn butter (as well as barrel and swing churns), devices to turn flax into linen, and a piece of wooden water pipe excavated from beneath the town. The "Village" incorporates a maple sugaring house, a barber shop and doctor's office, a one-room schoolhouse (where Dickerson posed with the "Board of Education"), a massive carriage house, and a tiny Church created in 1937 out of a chicken house by a 12 year old preacher who was fed up with the "highfalutin" ministers in the area. The "Henhouse" Church became so famous, it earned a feature in the April 17, 1939 issue of Life Magazine. The Mitchell House on property was PACKED with 1800's clothing, and cabinets full of dainty china tea sets (used for tea parties). The house was on the Underground Railroad and Dickerson showed me where slaves were hidden beneath floorboards. She also explained symbols used on quilts (thrown over the front porch for "airing") to indicate how the slaves were to be moved (ie – a circle meant they'd move out by wagon). There was so much more, I was sad it was the end of the day. This place should be swarming with visitors, but besides the hundreds of school groups that come on field trips, hardly anyone does. "I think it's because we call ourselves a 'Farm Museum' and people think it's boring," said Dickerson. It is anything but.
Settlement House Fine Arts
Sylvania, PA
Settlement House Fine Arts
Syvania, PA



One last stop in

Sylvania at Connie Stickler's PA Artisan Shop, Settlement House.

It's right on 6 on the far side of "town" – and quite the find for craft hounds like me.

In a gorgeous contemporary timber-frame home (her husband's design and business), there are three floors of fine arts, jewelry and Connie's own wonderful animal paintings. Connie is a huge supporter of local artists and a delightful woman, and her shop is the perfect place to find gifts at a much lower price than in the city
Through Mansfield home of the State University, known for Music Department, I finally made it to
Penn Wells Hotel
Wellsboro, PA
Penn Wells Hotel Lobby
Wellsboro, PA
Wellsboro
and the historic
Penn Wells Hotel.
When I say "historic" I mean it in every sense. The rooms are clean, the bed comfortable (though no plump pillowtops here), and the bathroom sinks have hot and cold faucets (how do those work, anyway?). Radiator heat and water pipes overhead for the sprinkler system. It's as if nothing has changed since the place was "remodeled" in 1926. But despite the "rustic" accoutrements, it's a good night sleep until 5am when the street sweeping trucks starts doing its thing in the morning. I'm an early riser, so it was all right by me. But Wellsboro takes its charming "stuck-in 40's" identity very seriously, (which includes the cleanliness of its streets) and this hotel's location just can't be beat. It is the perfect place to stay if you want to walk outside, and down the block to eat at the iconic Wellsboro Diner.
Wellsboro, PA Downtown
Linda and Tom Barnicott
I had dinner, however at
Timeless Destinations
, where I met Route 6 artist Linda Barnicott, with her husband, Tom. Good food, great conversaton. I'm looking forward to all the artwork generated by her own Route 6 drive.